January 2021 - Strengthening your supply chain
Published on: 04/01/2021
GD Rectifiers talks performance and strengthening the supply chain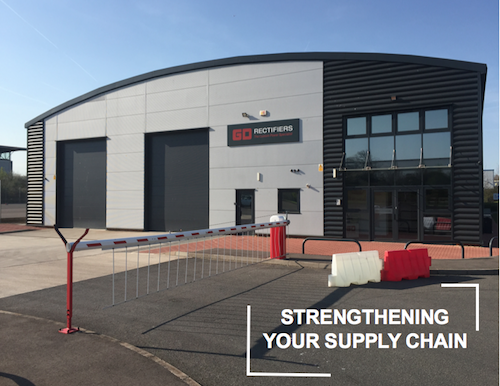 GD Rectifiers' Managing Director, Paul Bentley discusses the worldwide pandemic, the power electronics industry and how buyers can act now to improve their supply chain and stay ahead.
How has GD Rectifiers performed during the pandemic and has it impacted performance or deliveries?
GD Rectifiers maintained its high level of service to customers during the pandemic, ensuring deliveries and performance were not compromised. The safety of our team and customers remained our top priority, and we quickly adopted a flexible approach to a new normal. Our team are just as committed now to delivering excellence as they were before the pandemic started, their dedication to deliver an exceptional service to our customer remains our focus. We have naturally experienced minor supply chain problems but customers have been kept informed every step of the way and our team have escalated deliveries where possible which has enabled us to minimise delays.
GD Rectifiers has witnessed strong growth over recent years, acquiring Harmsworth Townley & Co Ltd earlier this year. How do you envisage the electronics supply chain performing over the next 12-18 months?
The pandemic has changed the way businesses see their supply chain in two main ways, we've seen some businesses move to a more localised supply chain, relying on bringing some manufacturing elements back in-house to minimise supply chain risks and other businesses are looking to wider spread their manufacturing capabilities across several countries for sufficient coverage.
Both have their own benefits and share the same goal, with localising the supply chain helping to mitigate potential disruption from border closures, changes in legislation, trade wars, political volatility and the global pandemic. GD Rectifiers is well placed to support transitioning customers' production locally, whilst providing a tailored solution to sourcing electronic components in a competitive and flexible approach.
The acquisition of Harmsworth Townley back in September has enabled GD Rectifiers to leverage their collective technological capabilities, product portfolio and sales channel access to create increased value for customers. The acquisition presents benefits of the Harmsworth Townley & Co product portfolio, capabilities in more markets, delivering greater industry access and increased growth opportunities.
Buyers are experiencing increasing lead times with some components hard to locate and source. How does GD Rectifiers help customers and what advice would you give?
Some component manufacturers have seen extended lead times with factories trying to ramp up production after being forced to close at the start of the pandemic. We are also seeing projects that were originally scheduled for 2021 being pulled forward and likewise in some cases being pushed back, which also adds to the sharp increase in demand, as manufacturers are still finding their feet in the new normal. GD Rectifiers are fortunate enough to offer a large inventory of components with hundreds of alternative solutions at hand, should customers experience extended lead times and require components quickly.
GD Rectifiers has so far managed to avoid any downtime in production, we have the scale and quality of service required to ensure production doesn't stop. We're proud that our production facilities have continued safely throughout the pandemic. GD Rectifiers is well placed to offer contract manufacturing services, from the design and manufacture of heatsinks, power assemblies, obsolete semiconductors, thermal management solutions and CNC machining. We offer 24/7 support without compromising on performance or quality.
My advice to procurement specialists in times of restricted supply is to work with a distributor like GD Rectifiers, someone you can depend on when you need a fast and flexible supply chain solution. Try not to scatter your requirements with too many sources, or in too many countries as each has their own risks and advantages. Partner with a distributor that stays ahead of the market and industry news, can offer a flexible buying approach and support you and your supply chain in times like these.
How has the supply chain evolved over the last five years and what changes do you see happening in the next 12 months?
Supply chains are constantly evolving which makes it hard for procurement specialists to navigate, especially with the abundance of component manufacturer mergers and acquisitions. If customers require more choice during the design-in process and appreciate the added flexibility of contract manufacturing services, they are forced to rely on just a handful of suppliers. The next 12 months will continue to see a tight supply chain with lead times continuing to rise, until new manufacturers break through and customers become more accustomed to using alternative components.
GD Rectifiers is a global manufacturer and distributor of products, services and solutions to commercial and industrial users of power electronic components. Alongside distributing power electronic components for some of the world's leading manufacturers, GD Rectifiers also manufactures their own range of heatsinks, power assemblies, inverter modules, selenium and silicon rectifiers and regulators.
For further information on GD Rectifiers' product range or to discuss your requirements with the team, please call: 01444 243 452 or email: .(JavaScript must be enabled to view this email address).