January 2021 - Mersen's Surge Protection CPD Certified 2021 Webinars
Published on: 19/01/2021
Attend one of Mersen's upcoming webinars and receive a CPD Certification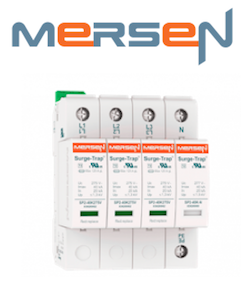 Mersen is hosting a selection of surge protection CPD webinars where all attendees will receive an official CPD certificate for their participation.
The webinar on Surge Protection General Fundamentals and Solutions for Construction & Industry (BS7671 18th Edition and IS10101:2020) is available to attend on the following dates:
UK Webinar Dates
26/01/21 – 14:00 GMT
23/02/21 – 14:00 GMT
23/03/21 – 14:00 GMT
Ireland Webinar Dates
28/01/21 – 14:00 GMT
25/02/21 – 14:00 GMT
25/03/21 – 14:00 GMT
The webinars will showcase:
- Why Surge protection is required and Mersen's experience
- Introduction to surge protection and the operation of the Surge Protection Device (SPD)
- SPD features based on the Standard IEC 61643
- Typical Current (Ityp), beyond the Standard
- BS 7671: 2018 / 18th edition
- SPD placement in the installation
1. BS7671/18th Ed. Section 534.4 Selection and installation of SPDs
2. Where and how to start?
3. Cascading concept
Register for the webinars here
GD Rectifiers is an official distributor for Mersen and stocks their comprehensive range of fuses and surge protection devices.
For further information on Mersen products, please contact our team on: 01444 243 452 or email: .(JavaScript must be enabled to view this email address).