January 2021 - Bussmann's Battery Storage Fuses
Published on: 12/01/2021
Fuses specifically designed for batteries and battery storage systems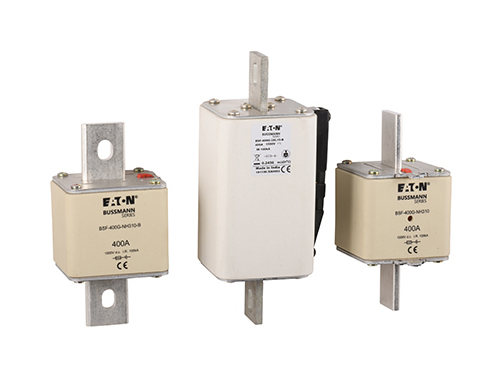 Eaton's Bussmann series of battery storage fuses are specifically designed for the protection of batteries and battery systems. They are capable of interrupting low over-currents, which are associated with faulty battery storage systems.
Bussmann's battery storage fuses range from 63-500A and up to 1500Vdc in voltage.
Bussmann series fuses play a major role in industrial and commercial facilities by providing reliable, maximum protection to power systems.
Bussmann's NH fuses are fitted with a dual indicator, allowing rapid identification of the operated fuse. Eaton's Bussmann series battery storage fuses are available as bolted or bladed mounting options to suit new and existing battery storage systems.
GD Rectifiers is an authorised distributor for Eaton's Bussmann series, providing customers with direct access to their complete range of fuses including: fuses, battery storage fuse links, high speed fuses, IEC and British Standard fuses, industrial fuses, low voltage UL and CSA branch circuit fuses, medium voltage fuses and square body fuses.
GD Rectifiers has a team of specialist fuse application engineers to help customers find the correct fuse for their timescales, application and budget.
For further information on Bussmann's battery storage fuses, please contact GD Rectifiers on: 01444 243 452 or email: .(JavaScript must be enabled to view this email address).