January 2021 - Brexit Update and FAQs
Published on: 14/01/2021
Everything you need to know about sourcing power electronic components from GD Rectifiers following the UK's exit from the European Union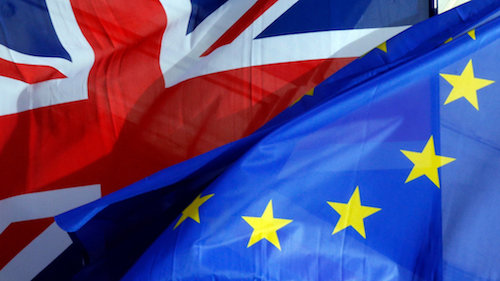 Now the UK has left the EU with a trade deal, our working group of representatives from across the business will continue to assess and plan to mitigate any business risks which could directly affect our ability to service our customers and impact our operations.
Whilst the trade agreement gets underway and the UK finalises the definitive details, we've set out some FAQs below to help you prepare for the months ahead.
Are you ready for Brexit?
Yes, as a business we are ready and had worked on our Brexit plans for some time, ensuring we could plan and prepare as best we could without knowing what a no-deal would look like. However, we were confident that our business would be flexible and agile to adapt to any changes as a result of the negotiations.
How did you prepare?
In the lead up to the deadline we conducted a risk assessment and identified key risk areas that could impact our supply chain and established the actions that we would take to mitigate them if the UK left the EU without a deal. The three main risk areas we identified were: reduced movement of products, goods and services across the UK/EU boarder, increased tariff and duty costs on goods moving between the UK and EU and increased administration to process the required cross boarder data flows.
We hold inventory in the UK and stock an extensive range proportionate to the size of our business. We have long standing relationships with the brands we stock and speak to the factories daily. Our entire network of suppliers continue to work together to ensure a smooth transition.
This put us in the best position to be able to service our customers worldwide. We have also been increasing our stock levels over recent months in preparation for Brexit and we're confident that our broad core stock range will provide customers with buffer stock, protecting you against any short-terms disruptions now we've left the EU.
What does Brexit mean for export customers, and how can we shop with you?
We are continuing to engage and support our export customers with their power electronic component, power assembly and heatsink requirements. We are well stocked and are experiencing no delays to our supply chain currently.
Customers can continue to shop with us the same way as before – visit our website or call and email our team to discuss your requirements and place an order.
We're ready to support our export customers through this transition, and have listed the key changes that have resulted out of Brexit which could impact the delivery process:
1) It's vital that all shipments that cross the GB/EU boarder are accompanied by a completed commercial invoice. To complete a commercial invoice for our export customers correctly, we will:
- Include our EORI number (registered in the UK) and the EORI number of the receiver
- Describe the goods accurately, include the correct HS code(s) and value your items correctly
- Include country of origin details and apply the correct Incoterms as agreed with customers
- Add both our address and the recipients address and contact details on invoices
- Some carriers are asking for customers to include a preferential statement of origin on your commercial invoice, otherwise your goods may be held at customs and duty may be charged at a standard rate. If you know your carrier requires this information please let us know so we can add it to the invoice
2) It's important that our customers complete their customs and declarations documentation correctly, including:
- Checking if an export license (including a strategic export licence) or any other supporting documentation is required, and you should confirm any duties and taxes that need to be paid
- You will need to check with your carrier that you can continue to create and submit your air waybills and customs paperwork as done previously
We're monitoring the implementation of the agreement closely, assessing impacts and making all necessary arrangements to help support our customers as best we can. We are continuing to ship our products outside of the UK and have not experienced any implications or delays so far.
Our customers can rely on our expertise and experience to ensure that your shipments travel seamlessly and compliantly. If you have any questions or concerns, you can get in touch with our team today on: 01444 243 452 or email: .(JavaScript must be enabled to view this email address) and we will help you as best we can.
What changes are we having to make as a result of Brexit?
Our team are going through the abundance of Brexit documentation and legislation and are putting plans in place to make minor changes to our export customer process, these include:
1) Rules of origin – we're checking with all of our suppliers on any products that might be affected by the new rules of origin legislation. Our manufacturing partners continuously change and review the production and country of origin of products so we will keep our customers updated on the latest COO where possible
2) EORI number – we now clearly state our EORI number and the recipients EORI number on all of our export invoices
3) Preparing invoices - classifying goods – we now include HS commodity codes, EORI numbers and the country of origin on invoices
4) Keeping invoices and records – we will continue to keep invoices and records on file in line with UK legislation
Will we have to increase our prices because of Brexit?
Now the UK has left the EU with a deal we are confident that we can maintain our prices and continue to service our customers in the same way as we have done previously.
Whilst we make every effort to maintain our prices, in January each year our suppliers often review their prices which can often lead to price increases. Our advice to customers is with Covid-19 still impacting the industry, plan as far ahead as possible to lock in the best prices and delivery dates.


Have we assessed the impact of product/service specific regulatory changes associated with new and altered compliance regimes?
Yes


What business continuity plans has our organisation made for supply of oversea parts/materials that could affect the goods/services we provide?
We have a number of weeks of safety stock on our fast moving lines and we plan to increase the level of safety stock for these fast moving lines in the coming weeks. We continue to work with our suppliers to ensure deliveries run on schedule, minimising potential delays


Have we made any changes to the way we invoice?
Yes, our invoices now have our EORI number on them, we provide an accurate description of the goods including HS codes and value items correctly. We also include the country of origin details of each product.

Does wood packaging material (WPM) meet ISPM15 international standards?
Yes

Are your carriers aware of Safety & Security (S&S) declaration requirements from July 1st 2021?
Yes


Are carriers aware of the new Goods Vehicle Movement Service (GVMS) and Pre-Lodgement Model requirements from July 1st 2021?
Yes


Have we engaged with our overseas suppliers to assess potential disruptions to delivery of these goods?
Yes
Are we VAT registered in the UK?
Yes - Vat No: GB 190 295 160
Do we have an EU or UK EORI number?
Yes - EORI No: GB 190 295 160 000

What means of transport are we using for deliveries?
We continue to use Fedex for all UK deliveries and we still ask customers to organise collection on their own carrier accounts for goods purchased outside of the UK

Can we provide HS Codes, Country of Origin, Country of Despatch and Weights for all goods, and can we confirm we have the resources to provide this at point of quotation?
Yes, we can provide this information if required

In January 2021, all products that fall under the current CE marking requirements will need to change to the new UKCA labelling. Will our products supplied under current CE marking be revised accordingly?
We are actively working with our suppliers and manufacturers to ensure that all products we sell have the appropriate certifications and labelling following changes on 31st December 2020. This includes the UKCA labelling. We will work with suppliers to implement the new changes over the coming months
For further information or support on new Brexit processes, please send an email to: .(JavaScript must be enabled to view this email address) where our team will be happy to help.