January 2019 - Southern Manufacturing & Electronics Show
Published on: 16/01/2019
Where industry and innovation converge, one show with a thousand solutions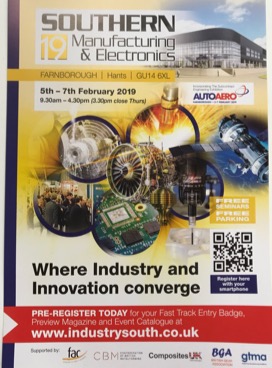 Make a date with one of the UK's largest electronics show
The Southern Manufacturing & Electronics Show is the biggest annual showcase of technology and innovations for manufacturing and its supply chain in Southern England. This year's exhibition takes place from 5th - 7th February 2019 in Farnborough.
Last year The Southern Manufacturing & Electronics Show celebrated it's 20th anniversary and became the first major exhibition to take place in newly built Farnborough International Exhibition & Conference Centre: a £35m state-of-the-art venue for the iconic show.
The exhibition offers thousands of design, engineering, production and procurement solutions encompassing state-of-the-art manufacturing techniques., metalworking machinery, new materials, electronic assembly, automation, tooling, advanced components, 3D print and subcontracting services.
Over 800 UK and international companies will exhibit at the industrial event including suppliers to Aerospace & Defence, Electronics, Medical, Autosport, Marine, Space Engineering and Electrical and Mechanical Engineering. Exhibitors this year include: TDK Lambda, RF Solutions, Stanelco RF Technologies and many more. See the full list of exhibitors here.
The show offers free technical seminars that deliver expert opinion on key topics, strategic thinking and the latest ideas in Manufacturing and Electronics.
Learn more about what to expect from the exhibition and book tickets here – www.industrysouth.co.uk