January 2019 - How to Cope with Component Shortages
Published on: 21/01/2019
Interview with Paul Bentley, Managing Director of GD Rectifiers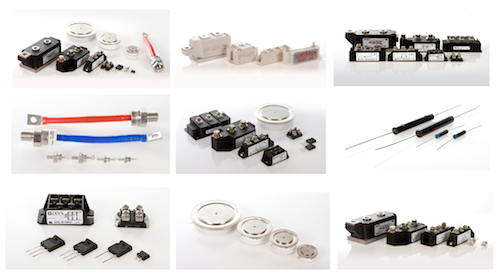 1) How have purchasing trends changed in the last 5 years?
Several interesting trends have started to emerge, including the Internet of Things (IoT), Industrial Internet of Things (IIoT), robotics and the increase in demand for electric vehicles, all of these developments are affecting purchasing trends in the industry.
Having stock on the shelf is also vital in today's market. Most companies stock against their forecasts but at GD Rectifiers it's important for us to have a wide range of components available straight away which is why we also ensure we have access to additional stock.
2) How is GD Rectifiers managing extended lead times to ensure purchasers are not let down?
We saw that lead times were being pushed out at the end of last year and so the first thing we did was to notify our customers of the extended lead times we were seeing. We advised customers that could provide a forecast to provide their estimated usage for the next 12 months so we could order their requirements, along side our own buffer stock order. Customers are not always in a position to provide an annual forecast, so we had to make sure we had contingency stock in place not only for new customer requirements but for the shortfall on our existing customer accounts too.
3) When a new product is launched, what does GD Rectifiers do to keep up with demand?
We ensure our team have had extensive product training, we ensure we have the new products in stock or check that they are easily accessible on a short lead time from the factory. We then work with our marketing team to promote the new products to our customer base.
4) What impact does mergers and acquisitions have on your product lines?
As an independent distributor, mergers and acquisitions do not usually affect our product lines. Occasionally, we can see lead times getting pushed out when two large companies merge because of an order short fall during the transition period. Luckily, at GD Rectifiers our diverse product range from some of the world's largest manufacturers allows us to offer product alternatives to our customers whilst lead times get pushed out to avoid disappointment.
5) What challenges do you envisage over the next 3 years for the electronics supply chain?
With the continued demand for electric vehicles set to dominate the industry over the next 5+ years, we are likely to see another semiconductor components shortage. It will become increasingly important for purchasers to start working to an annual forecast or to obtain bi-annual requirements from their customers so that they can ensure stock is in place.
6) What advice would you give to purchasers that are experiencing long lead times sourcing components?
Ensure you are responsibly sourcing electronic components and where possible always buy from an authorised distributor. During the current shortages, some buyers are turning to sources that they haven't used before and often these are non-franchised distributors. The issue with using non-franchised distributors is that you do not know the traceability of the components you are selling on and you cannot be certain that you are not buying and selling counterfeit goods.
For both customers and distributors that are experiencing long lead times, my advice would be to contact GD Rectifiers, we can help you source the components you need. We work directly with the factories to ensure the fastest delivery time of non-stocked products. We can also offer alternative parts for your requirements, suggesting comparison products that will achieve the same performance.
For further information on GD Rectifiers' product range please click here.
To discuss your electronic component requirements, please call our sales team today on: 01444 243 452 or email: .(JavaScript must be enabled to view this email address).