January 2019 - Eaton's Fuses Made Simple™ Program
Published on: 15/01/2019
Control circuits program streamlines fuse selection and helps enhance safety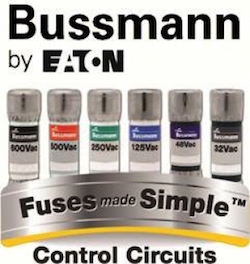 Eaton's Bussmann Series has launched the Fuses Made Simple™ Control Circuits program which helps enhance the control fuse selection process and safety in a variety of commercial and industrial environments. The program is designed to eliminate guesswork in the selection and specification process of supplementary control circuit fuses by utilising a colour-coding system. Now, each control circuit fuse will have a different colour label based on maximum voltage rating.
The Fuses Made Simple™ Control Circuits program features six colour codes categorised by maximum voltage rating. To select the proper fuse, users should follow three easy steps:
- Select the type of fuse, either time-delay for inductive loads or fast-acting for resistive loads
- Next, select a voltage rating (colour-coded based on the maximum voltage of the fuse ranging from 32 – 600Vac) that is equal to or greater than the system voltage
- Finally, verify that the interrupting rating of the selected fuse is equal to or greater than the available short-circuit current
Each fuse in the program has a new label that clearly and consistently displays critical fuse information, part number, amp rating, voltage rating and agency listings, in an easy-to-read format.
GD Rectifiers has been an official distributor for Eaton's Bussmann Series (formerly known as Cooper Bussmann) for over 10 years.
To learn more about the Fuses Made Simple™ Control Circuits program or any of the products available from Eaton's Bussmann business, please contact GD Rectifiers on: 01444 243 452 or email .(JavaScript must be enabled to view this email address).