February 2021 - Littelfuse Launches Semiconductor Fuses with Bladed Mounting Options
Published on: 15/02/2021
Littelfuse's PSR series high-speed family now includes new bolted and DIN blade models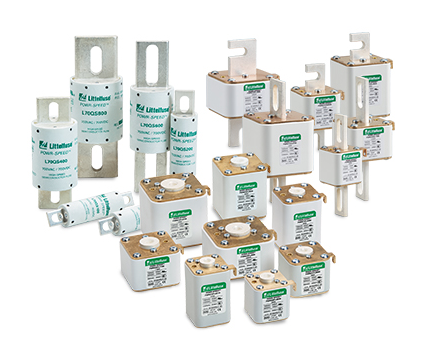 Littelfuse, a leading manufacturer of pioneering technologies in circuit protection, power control and sensing, has recently announced the expansion of its award winning line of POWR-SPEED PSR series high-speed fuses by adding 275 new bolted and DIN mounting options in various sizes and amperages to meet global market needs.
Littelfuse's PSR series fuses are used in power conversion and power conditioning equipment to provider overcurrent protection for critical power semiconductor devices such as diodes, triacs, IGBTs (insulated-gate bipolar thyristors), SCRs (silicon controlled rectifiers) and MOSFETs (metal-oxide semiconductor field-effect transistors). The square body design accommodates up to 2,000 amperage with up to 70 percent DC interrupting rating n a smaller footprint. This unique and compact design saves space and provides more design flexibility in today's power systems.
The key benefits of the PSR series include:
- Different mounting terminations, including bladed and flush mount options, to meet a broader range of
applications
- Unique silicon sealant prevents filler leakage to increase fuse reliability and keep equipment safe
- Up to 20 percent more DC voltage in standard package size than existing products
- Up to 70 percent more DC interrupting rating than existing products
- Third-party DC certification printed on product label, along with extensive published DC information with
global certification, helps streamline UL inspections
Littelfuse's PSR fuses are ideal for:
- Power conversion device protection (UPS, inverters, rectifiers, drives)
- Battery protection applications (energy, storage systems)
- Electric vehicle charging stations
- High power DC systems (DC common bus, DC injection braking)
- Heaters and welding equipment
- Power supplies
GD Rectifiers has access to Littelfuse's wide range of products, including: fuses, specialty fuses, resettable fuses, medium voltage fuses, industrial power and UL fuses, varistors, LED protectors, surface mount LED protectors, arc flash detection, TVS diodes, solar arc flash detection, solar protection arrays, solar protection relays, solar surge protection devices, solar TVS diodes, solar-rated varistors, LED lighting surge protection modules and type 2 surge protection devices.
Shop the complete Littelfuse range here
For further information on Littelfuse's product range or to discuss an enquiry, please call GD Rectifiers on: 01444 243 452 or email: .(JavaScript must be enabled to view this email address).