February 2021 - Enerdoor's New Passive Harmonic Filter: FINHRM5C UL Approved
Published on: 26/02/2021
Learn more about Enerdoor's innovative new passive harmonic filter
Introducing FINHRM5C, Enerdoor's new and advanced filter featuring excellent attenuation of current harmonic distortion and overvoltage spikes.
Benefits
- Compact size – one of the industry's smallest
- UL Approved
- Ensures IEEE-519 Compliance
Features
- THD reduced <5%
- Rated current from 10 to 750A
- Rated up to 690Vac for the HV version
- Low power loss and operating temperature
- Improves flicker and power factor
- Unaffected by network conditions
- Reduces system loss due to harmonic distortion
The filter features a compact size and is one of the smallest in the industry, offering space-saving benefits compared to other passive harmonic filters.
The FINHRM5C is compliant with international IEEE-519 and IEC61000-3-12 harmonic standards, carries UL approval for the US and Canada markets and supports applications up to 750A, reducing THD to <5%.
This series has a low operating temperature and uses Class H Materials (180°C) allowing the filter to be used in ambient environments up to 70°C without derating. The FINHRM5C series maintained a temperature under 70°C (158°F) under a strenuous 8-hour test at full load.
THD Current without FINHRM5C THD Current with FINHRM5C
Harmonic Filtering Harmonic Filtering
With the FINHRM5C, the end user may ensure conformity with international harmonic emission standards, avoid utility fines for poor power quality and mitigate issues that emerge from high harmonic emissions.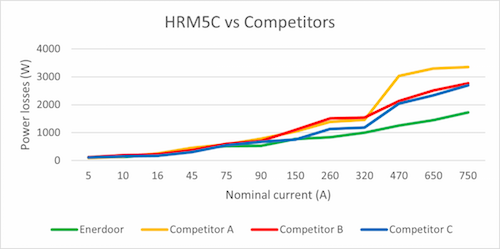 As the graph demonstrates, the Enerdoor passive harmonic filter FINHRM5C has much less power loss than the competition. This means lower temperatures inside the cabinet, resulting in decreased heat dissipation and energy costs.
The Enerdoor Group is an international leader in the development and production of power quality and EMC solutions for automated machinery and industrial plants. Enerdoor's broad range of products include: EMI-RFI Filters, motor protection devices, harmonic filters, line reactors, surge arresters, voltage stabilisers and customised solutions.
Enerdoor offers a global distribution and R&D network that provides flat rate on-site CE Certification required by IEC and EN standards. Enerdoor proudly offers a 5-year warranty on their EMI-RFI filters providing customers with added reassurance for installing these filters in to a new device or application.
Founded in 1992, the Enerdoor Group consists of Enerdoor in North America, Germany and Switzerland. GD Rectifiers partners with Enerdoor to offer their comprehensive range of electromagnetic solutions and are the group's exclusive UK distributor.
For further information on Enerdoor products, please contact GD Rectifiers on: 01444 243 452 or email: .(JavaScript must be enabled to view this email address).