February 2020 - API Capacitors Latest Brochure
Published on: 03/02/2020
GD Rectifiers shares API Capacitors latest product brochure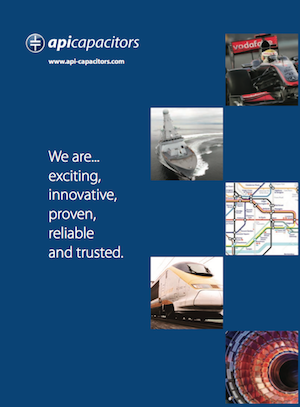 API Capacitors are the leading UK designer and manufacturer of high performance power capacitors. They operate an ISO9001 quality management system and have an established reputation for technical excellence, quality and reliability.
Download API Capacitors latest brochure here.
GD Rectifiers is an authorised distributor for API Capacitors and have been distributing their extensive range for 7 years including: AC Capacitors, DC Capacitors, Energy Storage Capacitors, Low Temperature Capacitors, Snubber Capacitors, Track Circuit Capacitors, Ultra Low Temperature Capacitors and Custom Designed Capacitors.
For further information on API Capacitors or discuss a capacitor enquiry, please call GD Rectifiers on: 01444 243 452 or email: .(JavaScript must be enabled to view this email address).