February 2019 - Bussmann's Industrial Red Spot Fuses
Published on: 18/02/2019
Learn more about Eaton's Bussmann Industrial red spot fuses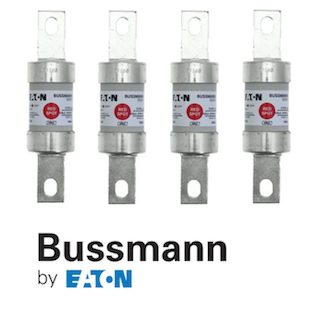 Eaton is the leading source of fusible circuit protection solutions in the global marketplace. Eaton's Bussmann series products are approved for use around the world and meet agency requirements and international standards: IEC, VDE, DIN, UL, CSA, BS and various others.
The headquarters for Eaton's Bussmann series product line is located in Burton-on-the-Wolds in Leicestershire (UK) and is part of Eaton's Industrial Control and Protection EMEA division.
Eaton manufactures over 50,000 Bussmann series part numbers, covering fusible circuit protection solutions for a wide range of applications: residential, industrial, motor protection, power conversion and distribution.
Eaton has been a leading manufacturer in the design, development and manufacture of the fuse links and their associated accessories for more than 100 years and supplies fuses to over 90 countries worldwide.
Eaton's team of specialist engineers and field application engineers play a pivotal role in the design, development and international standardisation of fuse links.
GD Rectifiers is an authorised distributor for Eaton's Bussmann series and our specialist engineers offer advice on fuse selection and suitable applications. We stock Bussmann's complete range of High Speed, BS88, IEC, Low Voltage, Medium Voltage and CSA Branch Circuit Fuses.
Bussmann's red spot fuses are ideal for protecting utility and industrial installations. They have a large, proven contact system and anti-vibration feature that helps ensure perfect carrier contact alignment and superior electrical contact. The conductor insulating sleeves help prevent inadvertent contact at the entry point while fully shrouded terminals deliver IP20 protection. Moulded parts are made from flame-retardant, non-hygroscopic, high dielectric strength phenolic material, making them a firm favourite amongst engineers.
Bussmann's Red Spot Fuses Brochure
Bussmann's Red Spot Fuse Holders Brochure
For further information on Bussmann's Red Spot Fuses please click here or call GD Rectifiers today on: 01444 243 452 / email: .(JavaScript must be enabled to view this email address).