December 2020 - Recent Littelfuse Success Stories
Published on: 23/12/2020
Discover Littelfuse's recent success stories including the Littelfuse products used, applications and functions within the applications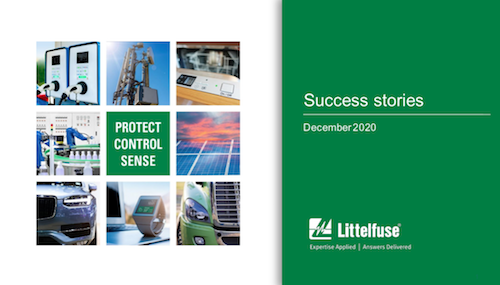 Littelfuse is a global leader in providing magnetic sensing and circuit protection solutions to customers worldwide.
Learn how customers have recently designed Littelfuse products in to a variety of applications including:
- Wireless door operating detector
- Fuel dispenser
- Coffee machine
- Car window
- Microwave
- Vacuum cleaner
- Door intercom system
- Oven
View Littelfuse's success stories here to explore how their portfolio of technologies can help solve your design challenges.
GD Rectifiers has access to a wide range of Littelfuse circuit protection, semiconductor and solar products, including fuses, specialty fuses, resettable ptc fuses, medium voltage fuses, industrial power fuses, varistors, TVS diodes, solar arc flash detection, solar protection arrays, solar protection relays, surge protection modules and solar TVS diodes.
For further information on Littelfuse's extensive product range, or to discuss your enquiry, please call GD Rectifiers on: 01444 243 452 or email: .(JavaScript must be enabled to view this email address).