December 2018 - Electronica 2018 Highlights
Published on: 20/12/2018
Show highlights from this year's exhibition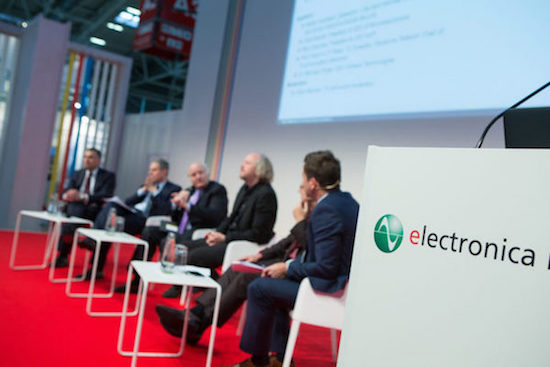 Electronica was larger this year than ever, occupying 17 halls at Messe Munchen it saw 2,725 exhibitors from the electronics industry all in one place from 13th to 16th November. There were 3,100 exhibitors from over 50 countries and 80,000 visitors attended from over 80 countries.
Electronica provides the ideal opportunity for engineers to discover all of the latest technology innovations. The exhibition lasted four days and hosted four conferences, sixteen forums and a live demonstrations area showcasing the industry's products in their respective application.
This year Electronica launched their "Big Step Challenge" with the aim to cover the distance between the capital city of each of these countries to the trade fair in Munich. Visitors could download the electronica app on their mobile phone or smart device which would record the total number of steps taken by every participant during the four-day event.
To achieve their target, Electronica needed visitors to take 436,000,000 steps, and every time a 1000,000,000 step milestone was reached both Electronica and RS Components made a donation to the FIRST LEGO League in the form of kits for community groups all over Germany, enabling 6-16 year olds to take part in the league.
Highlights from this year's show include:
1) The CEO roundtable talk on "Funding AI and subjecting it to regulations: Paradox or necessity?", from the likes of Jean-Marc Chery (President & CEO at STMicroelectronics), Dr. Reinhard Ploss (President & CEO at Infineon) and Rick Clemmer (President & CEO at NXP Semiconductors).
2) The talk from the top on "Semiconductors or the automotive industry – who is driving who?" discussion featuring Peter Schiefer (President of the Automotive Division at Infineon), Thomas M.Muller (Divisional Director Electronics CarIT Development at Audi) and Jens Fabrowsky (Divisional Director Automotive Electronics).
3) Automotive conference focused on future-orientated topics as such: "emissions-free driving", "autonomous driving" and the last "mile". The Automotive conference featured around eighteen 30-minute lectures, visitors enjoy being able to participate in both the conference and the trade fair.
The next Electronica trade fair will take place on 10th-13th November 2020 at Messe Munchen, for more information click here.
GD Rectifiers is one of the UK's leading distributors of power electronic components, specialising in semiconductors, capacitors, heat sinks, power assemblies, fuses, EMI filters, current sensors, surge arresters, voltage stabilizers, power electronic building blocks and liquid cooling systems.
GD Rectifiers work closely with suppliers to offer competitive pricing, short lead times and fast delivery on a wide range of power electronic components to their customers.
For more information about GD Rectifiers' extensive product range, please click here or call the team today on: 01444 243 452 or email: .(JavaScript must be enabled to view this email address).