April 2021 - Littelfuse Product Discontinuation Notice
Published on: 23/04/2021
Littelfuse announces the discontinuation of it's FBMOV Varistor series range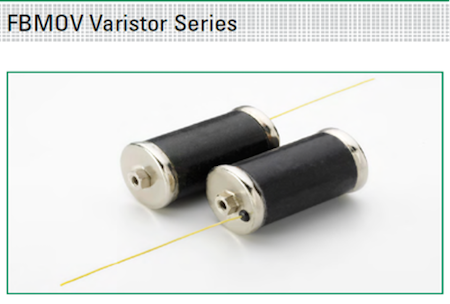 Littelfuse has this week announced the discontinuation of their FBMOV Varistor Series range. Production has ceased and the product has been discontinued with immediate effect. Littelfuse will not be able to accept any new orders or last time buys for this range.
Littelfuse has been forced to take this action due to a key raw material supplier is no longer able to supply us with the material to make FBMOV products.
Please see the obsolete and similar replacement parts listed below.
| | | | | | |
| --- | --- | --- | --- | --- | --- |
| Part Number Status | Part Number | Maximum Continuous Voltage | Maximum Peak Current 8/20us A | Maximum Short Circuit Current Rating: SCCR kA | Installation |
| Discontinuation | FBMOV115M | 115 | 40,000 | 200 | Screw mounting |
| Active/Similar Replacement | LST1505VL2NT1 | 150 | 50,000 | 200 | Screw mounting, Terminal PCBA |
| Discontinuation | FBMOV130M | 130 | 40,000 | 200 | Screw mounting |
| Active/Similar Replacement | LST1505VL2NT1 | 150 | 50,000 | 200 | Screw mounting, terminal block, PCBA |
| Discontinuation | FBMOV140M | 140 | 40,000 | 200 | Screw mounting |
| Active/Similar Replacement | LST1505VL2NT1 | 150 | 50,000 | 200 | Screw mounting, terminal block, PCBA |
| Discontinuation | FBMOV150M | 150 | 40,000 | 200 | Screw mounting |
| Active/Similar Replacement | LST1505VL2NT1 | 150 | 50,000 | 200 | Screw mounting, terminal block, PCBA |
| Discontinuation | FBMOV175M | 175 | 40,000 | 200 | Screw mounting |
| Active/Similar Replacement | LST1805VL2NT1 | 180 | 50,000 | 200 | Screw mounting, terminal block, PCBA |
| Discontinuation | FBMOV230M | 230 | 40,000 | 200 | Screw mounting |
| Active/Similar Replacement | LST2755VL2NT1 | 275 | 50,000 | 200 | Screw mounting, terminal block, PCBA |
| Discontinuation | FBMOV250M | 250 | 40,000 | 200 | Screw mounting |
| Active/Similar Replacement | LST2755VL2NT1 | 275 | 50,000 | 200 | Screw mounting, terminal block, PCBA |
| Discontinuation | FBMOV275M | 275 | 40,000 | 200 | Screw mounting |
| Active/Similar Replacement | LST2755VL2NT1 | 275 | 50,000 | 200 | Screw mounting, terminal block, PCBA |
| Discontinuation | FBMOV300M | 300 | 40,000 | 200 | Screw mounting |
| Active/Similar Replacement | LST3205VL2NT1 | 320 | 50,000 | 200 | Screw mounting, terminal block, PCBA |
| Discontinuation | FBMOV320M | 320 | 40,000 | 200 | Screw mounting |
| Active/Similar Replacement | LST3205VL2NT1 | 320 | 50,000 | 200 | Screw mounting, terminal block, PCBA |
| Discontinuation | FBMOV385M | 385 | 40,000 | 200 | Screw mounting |
| Active/Similar Replacement | LST3855VL2NT1 | 385 | 50,000 | 200 | Screw mounting, terminal block, PCBA |
| Discontinuation | FBMOV420M | 420 | 40,000 | 200 | Screw mounting |
| Active/Similar Replacement | LST4205VL2NT1 | 420 | 50,000 | 200 | Screw mounting, terminal block, PCBA |
| Discontinuation | FBMOV440M | 440 | 40,000 | 200 | Screw mounting |
| Active/Similar Replacement | LST5105VL2NT1 | 510 | 50,000 | 200 | Screw mounting, terminal block, PCBA |
| Discontinuation | FBMOV460M | 460 | 40,000 | 200 | Screw mounting |
| Active/Similar Replacement | LST5105VL2NT1 | 510 | 50,000 | 200 | Screw mounting, terminal block, PCBA |
| Discontinuation | FBMOV510M | 510 | 40,000 | 200 | Screw mounting |
| Active/Similar Replacement | LST5105VL2NT1 | 510 | 50,000 | 200 | Screw mounting, terminal block, PCBA |
| Discontinuation | FBMOV550M | 550 | 40,000 | 200 | Screw mounting |
| Active/Similar Replacement | LST5505VL2NT1 | 550 | 50,000 | 200 | Screw mounting, terminal block, PCBA |
| Discontinuation | FBMOV625M | 625 | 40,000 | 200 | Screw mounting |
| Active/Similar Replacement | LST6905VL2NT1 | 690 | 50,000 | 200 | Screw mounting, terminal block, PCBA |
| Discontinuation | FBMOV750M | 750 | 40,000 | 200 | Screw mounting |

For further on this product discontinuation notice, or to discuss alternatives, please contact GD Rectifiers on: 01444 243 452 or email: .(JavaScript must be enabled to view this email address).