April 2021 - GD Rectifiers Product Portfolio
Published on: 27/04/2021
Learn more about the impressive product range GD Rectifiers has built up over the last 55 years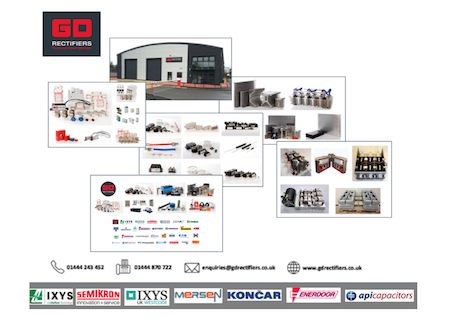 Leading independent distributor GD Rectifiers, is a global manufacturer and distributor of products, services and solutions to commercial and industrial users of power electronic components.
They have been supplying electronic components and customised devices to engineers, purchasing specialists and hobbyists for over 55 years. Delivering unrivalled customer service, ensuring high-quality components are delivered on time and in budget, making them one the UK's leading distributors.
GD Rectifiers provides tate-of-the-art power semiconductors including: diodes, thyristors, IGBTs, IGBT modules, MOSFETs, thyristor diode modules and rectifier bridges, from the world's leading manufacturers including: IXYS, IXYS UK Westcode, Littelfuse, Semikron and EDI.
They also distribute a large range of circuit protection devices; semiconductor fuses, fuse mountings, EMI-RFI filters, harmonic filters, medical and military filters, parallel filters, motor protection, power factor correction, DV/DT, varistors, surge protection modules, surge arresters, selenium transient suppressors, breakover diodes, thermal trips and LED protectors.
GD Rectifiers also distribute passive components; EMC/EMI-RFI filters, capacitors and resistors, magnetic transducers and wound products; current and voltage transformers, pulse, HF and current transformers, current transformers, inductors, line reactors, single phase transformers, three phase transformers and green energy devices for LED, wind and solar energy applications.
GD Rectifiers manufactures a large range of standard and custom heatsinks and hardware, including forced air-cooled heatsinks, closed loop water coolers/air blast coolers, water/oil cooled heatsinks, LED heatsinks, hollow fin heatsinks and solid fin heatsinks suitable for power semiconductors, LED lighting and commercial applications. The manufacturer also designs and assembles high-quality power semiconductor assemblies to customer specifications using diodes, thyristors, IGBTs and MOSFETs in a wide range of topologies with 24 designs available from three configurations, suitable for a wide range of applications.
GD Rectifiers' power assemblies are typically used in high powered, high voltage rectifiers for charging, resistance welding, plating, heating, lighting, cathodic protection, magnetic supplies, pulse power, variable speed drives, choppers, inverters and modern day green energy applications for wind, solar and tidal energy markets.
The company also offers a repair and replacement service for faulty or ageing semiconductor rectifiers, converters, inverters and regulators.
For further information on GD Rectifiers product range, or to discuss your enquiry with our team, please call: 01444 243 452 or email: .(JavaScript must be enabled to view this email address).