April 2019 - Mersen's Surge Protection Solutions
Published on: 02/04/2019
Discover Mersen's industry-leading surge protection devices today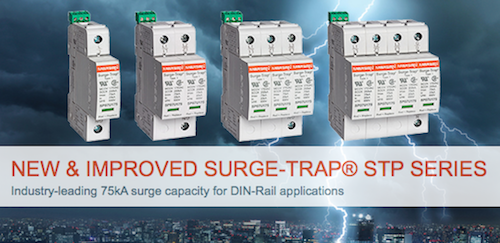 What types of damage can a surge cause to a facility?
Disruptive: A surge enters an electronic component which interprets the valid logic command. The result is a system lock-up, machine malfunction leading to a faulty output, or corrupted files.
Dissipative: A repetitive pulsing of short duration energy causing a long term machine or system degradation leading to a system replacement at earlier intervals.
Destructive: A high-level energy surge that immediately results in equipment failure or deconstruction.
A voltage surge is when a voltage level that is short in duration and can be several times greater that the systems normal operating AC RMS or DC voltage level.
Mersen is an industry pioneer in surge protection technology, and have developed a world-class range of surge protective devices for your entire facility. Surge-Trap SPDs are designed to UL1449 4th Edition standards and feature Mersen's patented TPMOV technology inside.
Mersen's surge protection range provides advanced overvoltage protection to meet today's toughest requirements, offering devices suited to point-of-use protection to complete facility protection.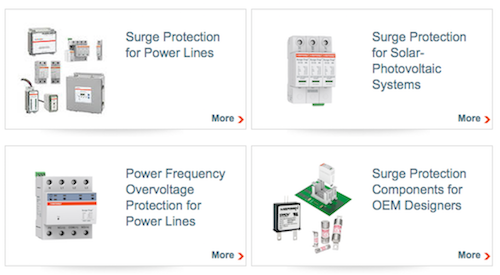 Surge Protection for Power Lines
Featuring Mersen's most popular range of surge arresters:
1) NEMA UL/CSA Type 1 – Surge-Trap STXH Series – 50kA, Surge-Trap STXR Series – 50kA, Surge-Trap STXP Series – 100kA, Surge-Trap STXT Series – 200kA, Surge-Trap STZ-R Series (internal SPD) – 450kA, Surge-Trap STZ Series (external SPD) – 450kA, Surge-Trap STT Series – 50kA
2) DIN-Rail UL/CSA Type 1 – Surge-Trap Monobloc ST Series – 50kA, Surge-Trap Pluggable STP Series – 50kA, Surge-Trap Pluggable STP Series - 75kA
3) DIN-Rail IEC Type 1/Class I – Surge-Trap MonoblocSTMT1 Series – 50kA
4) DIN-Rail IEC Type 1+2/Class I+II – Surge-Trap Pluggable STPT12 Series 12.5kA, Surge-Trap Pluggable STPT12 Series – 25kA
5) DIN-Rail IEC Type 2/Class II – Surge-Trap Pluggable STPT2Series – 40kA
6) DIN-Rail IEC Type 2+3/Class II+III – Surge-Trap Pluggable STPT23 Series – 20kA, Surge-Trap Monobloc STMT23 Series – 20kA Slim, Surge-Trap Monobloc STET23 Series – 20kA with EMI Filter
Surge Protection for Solar Photovoltaic Systems
This range includes advanced overvoltage protection to photovoltaic system by utilising Mersen's optimised dynamic thermal disconnection systems: Surge-Trap Pluggable STPT2 Series – 40kA PV and Surge-Trap Pluggable STPT1+2 Series – 5kA PV.
Power Frequency Overvoltage Protection for Power Lines
Mersen's overvoltage protection for power lines is suitable for the first stage of protection in commercial applications that are not exposed to direct strikes and have no external lightning protection systems: Surge-Trap POP + SPD Type 2 – For Contractor.
Surge protection Components for OEM Designers
Mersen's patented TPMOV eliminates common destructive failure modes associated with standard MOVs, the range includes: TPMOV UL Type 1 – 34MM – 50kA and TPMOV UL Type 1-34MM – 75kA.
GD Rectifiers have been an authorised distributor for Mersen, formerly known as Ferraz Shawmut, for over twenty years, distributing their extensive range of surge arresters, fuses, fuse mountings and microswitches.
View the complete Mersen product range available at GD Rectifiers here.
GD Rectifiers is more than a distributor of electronic components; they offer a wide range of niche services suited to engineers and purchasers with a focus on customised solutions, from design and build to prototypes and mass production runs.
Their extensive range of services include: call-off orders, CNC machining, customised capacitors, customised heatsinks and power assemblies, thermal management advice, railway components, a repair and replacement semiconductor service, semiconductor obsolescence and support in sourcing alternative/replacement parts.
For further information on how GD Rectifiers can help you on your next project, or to receive a quote today, please call: 01444 243 452 or email: .(JavaScript must be enabled to view this email address).