February 2020 - Semiconductors driving the electric vehicle industry
Published on: 12/02/2020
Power semiconductors are leading the way for electric vehicles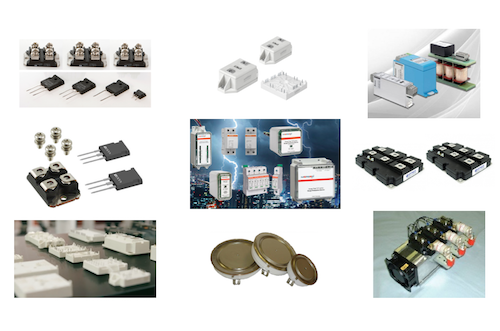 With more than 227,000 electric cars (EVs) on the road today and 8,500 electric vans across 130 models and 25,733 charging points in the UK, the demand for power semiconductor components has increased tenfold over the past five years.
The surge in demand for semiconductors has steamed from innovations in the industry providing longer electric vehicle battery life. This not only improves the logistical appeal of electric vehicles but it also provides a prime opportunity for semiconductor manufacturers and distributors.
Today's semiconductors are driving the next generation of electric vehicles. Semiconductors are used in a wide variety of functions suited to electric vehicles, including: touch-screen interactivity with the driver and passengers and power electric batteries and components in the power train. The more digitally advanced EV, the more semiconductors it will require. As features like autonomous driving and blind-spot detection become more widespread, the automotive market will need access to more semiconductors, putting more demand on the component market.
The average amount of semiconductor components used in EVs are rapidly growing, putting a strain on the industry and it's supply chain.
Car manufacturers are devoting their time to automotive innovations and are focusing strongly on EVs and setting aggressive sales targets, for example BMW wants EVs to be 15-25% of sales by 2025, Honda are aiming for two-thirds of its sales by 2030 and Ford plan to debut 13 new EV models by 2020.
Engineers are tapping in to the developments emerging from the expansion of EVs, especially in technology, such as 5G networks – a key development for electric vehicles as they require in-depth connectivity for vehicle system updates, emergency services communication and navigation assistance which will add to the demand for power semiconductors.
GD Rectifiers stocks a wide range of power semiconductors used in the automotive industry, designed and manufactured specifically for electric vehicles, including SiC power MOSFETs, IGBT modules, rectifiers, circuit protection devices and voltage regulators.
Power MOSFETs
Converters usually contain Inverters with Power MOSFETs or IGBTs to drive the electric motor. GD Rectifiers offers a broad range of power MOSFETs suitable for the automotive industry by IXYS and Semikron.
IXYS offers an extensive range of half bridge modules available in ISOPLUS i4-PACTM packaging. These devices are ideal for applications utilising power semiconductor devices that require heatsink grounding methods and provide unsurpassed thermal performance and temperature cycling capabilities.
Semikron offers a SEMITOP E1 IGBT module package suitable to EVs, providing maximum reliability.
Shop IXYS SiC Power MOSFETs here
Shop Semikron SiC Power Modules here
Insulated-gate bipolar transistors (IGBTs)
IGBT modules play an integral role in the development of EVs and comprise of the largest segment of the semiconductor market for EV power systems. IGBTs are a high-voltage, high-current switch connected directly to the traction motor in an electric or hybrid electric vehicle. It works by taking the direct current energy from the car's battery (through the inverter) and converts alternating current control signals into the high-current and high-voltage energy required to turn the motor. Ideal for EVs because of their high efficiency and fast switching, reducing power loss to wasted heat which results in a better mileage per watt of energy.
IXYS offers a wide range of XPT (extreme-light punch-through) IGBTs designed for electric vehicles, including: 600V XPT Planar (33A-550A), 650V XPT Planar (15A-200A), 650V XPT Trench (65A-480A), 900V XPT Planar (20A-310A) and 1200V XPT Planar (21A-240A).
Semikron's latest generation 7 IGBTs are designed specifically for motor drive applications. They provide major reductions in forward voltage drop and allow for smaller chip sizes and increases power density by up to 45% due to the nominal current ratings in the same module package.
Dynex has developed a number of technologies specifically for EV applications, including double sided cooled IGBT modules with wire-bondless design and active gate driver technologies.
Dynex also offers a wide range of SiC diodes and MOSFETs, IGBT gate drivers and custom electric vehicles systems.
Shop Semikron IGBT modules here
Gate Driver ICs
IXYS offers a range of gate driver ICs used in automotive applications worldwide. They have a wide operating voltage range from 4.5V to 35V. Their high volume automotive applications include: 2kW DC/DC for hybrid sedan, 6.6kW on board charger for hybrid sedan, automotive induction motor drive, 3.3kW DC/DC for hybrid SUV and 3.3kW DC/DC for EV bus.
SiC Schottky Diodes
IXYS' silicon carbide schottky diodes offer superior superior switching performance compared to existing discrete SiC solutions. The ISOPLUS packages offer a low thermal resistance whilst providing integrated isolation up to 3000V.
Rectifiers
IXYS' complete range of rectifier bridges are used throughout the automotive industry, including:
1-/3 half and full controlled bridges
1 & 3 phase high voltage rectifier modules
1 PFC modules (1- bridge + MOSFET boost)
Alongside Rectifiers, IXYS provides a comprehensive range of semiconductors designed for electric vehicle battery switching, including: Trench-Gate power MOSFETs with HiPerFET options, H-Bridge MOSFETs, NPT Discrete IGBTs, PT IGBTs, Converter/Brake/Inv (CBI) IGBT modules, Six-Pack IGBT modules, Full Bridge IGBT modules, phase-leg IGBT modules, HiPerDYN FRED ultra fast diodes, SONIC-FRD fast recovery diodes, fast recovery (FRED) diodes, FRED & HiPerFRED modules, XPT IGBTs, XPT IGBT modules, z8 encore, ez80, ZNEO, IGBT modules in SMPD package, SMPD MOSFETs and Z8051.
Semikron's rectifier bridges are used in key applications including: battery chargers, motor drive input rectifiers, power supplies, DC motor control, rectifiers with PFC, AC controllers, (SKWT type) static switches for natural convection or forced cooling.
Semikron's rectifier bridges are recommended forced and natural air cooling, are easy to mount with or without a heatsink, feature an isolated case, high surge current and fast-on or lead connectors.
Shop Semikron Rectifier Bridges here
Shop IXYS Rectifier Bridges here
Protection Devices
GD Rectifiers offers a wide range of protection devices from two of the world's leading manufacturers - Enerdoor and Mersen.
Enerdoor provides an extensive range of surge arresters and EMI, RFI and EMC filters used in conjunction with single or multiple variable frequency drives (VFDs) and servo drives.
Mersen offers a wide range of products and solutions covering all aspects of in-board and off-bard safety and power management for electric vehicles, including DC fuses and surge arresters designed for charging stations.
Shop Enerdoor EMI, EMC & RFI Filters here
Shop Enerdoor's Surge Arresters here
Shop Mersen's Surge Arresters here
Voltage Regulators
GD Rectifiers offers single phase and three phase voltage regulators designed to match the output voltage or generator to the electrical load and charging requirements of the battery for motor vehicles. We offer two types of single phase fully controlled voltage regulators (W1C and W1H), we also offer a half controlled voltage regulator (W1H), fully controlled three phase regulators (W3C) and half controlled voltage regulators (W3H).
Shop GD Rectifiers' Voltage Regulators here
GD Rectifiers offers a comprehensive range of power semiconductors and protection devices designed for the automotive industry and in particular suited to electric vehicles and charging stations.
For further information on GD Rectifiers' extensive product range or to discuss an upcoming project, please call our sales team today on: 01444 243 452 or email: .(JavaScript must be enabled to view this email address).