March 2019 - Bussmann's Medium Voltage Fuses
Published on: 21/03/2019
Shop Bussmann's world-leading range of medium voltage fuses today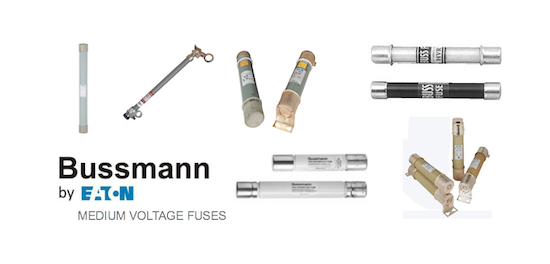 Eaton's Bussmann series is a world-leading supplier of medium voltage fuses and each product is backed by an efficient worldwide distribution network with unrivalled service and technical support. Formerly known as Cooper Bussmann, their circuit protection solutions comply with major international standards such as: ANSI, BS, DIN, IEC and UL.
Bussmann's medium voltage fuses generally fit in to two categories: expulsion fuses and current limiting fuses. An expulsion fuse is a vented fuse in which the expulsion effect of the gases produced by internal arcing, either alone or aided by other mechanisms results in current interruption. Expulsion fuses limit the duration of an overcurrent event, but they do not limit the magnitude of fault current. Bussmann offers two types of expulsion fuses: replacement fuse links for fused cutouts and boric acid fuses.
A current limiting fuse is a unit that, when in it's current-responsive element is melted by a current within the fuses specified current-limiting range, abruptly introduces a high resistance to reduce current magnitude and duration, resulting in subsequent current interruption. A current limiting fuse will reduce the magnitude of a fault current as well as limit the duration of the overcurrent event when operating in its current limiting range.
Eaton's Bussmann series offers a broad range of current limiting fuses for protection of feeders, transformers and motor circuits designed to ANSI, BS, DIN and IEC standards.
Medium Voltage Current Limiting Fuses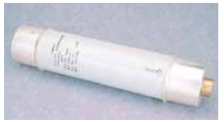 Bussmann's current limiting fuses are categorised in to three types:
1. Full range
A full range current limiting fuse is able to interrupt any current that will melt its element, and is defined by ANSI C37.40 as "a fuse capable of interrupting all currents from the maximum rated interrupting current down to the minimum continuous current that causes the melting of the fusible element(s)., when the fuse is applied at the maximum ambient temperature specified by the manufacturer.
2. General purpose
General purpose current limiting fuses are described by ANSI C37.40 as "a fuse capable of interrupting all currents from the maximum rated interrupting current down to the current that causes melting of the fusible element(s) in one hour. Not all currents fall within this range, it is possible for the fuse to be exposed to an overcurrent lower than the value given by the one hour criteria, in which case a different overcurrent protection device would be required to interrupt the overcurrent.
3. Back-up
Back up current limiting fuses are defined by ANSI C37.40 as "a fuse capable of interrupting all currents from the maximum interrupting rating current down to the minimum interrupting current." The minimum interrupting current is the lowest current that the fuse will be able to clear properly. This creates a need to place a low current interrupting device, such as motor overloads, in series with the back-up rated fuse.
E-and R-Rated Fuses
E-Rated fuses are used to protect feeder circuits, power transformers and potential transformers. E-Rated fuses 100A and below must melt in the 300sec at an rms current within the range of 200% to 240% of the continuous current rating.
E-Rated fuses above 100A must melt in 600sec at an rms current within the range of 240°C to 264°C of the continuous current rating of the fuse. Bussmann offers a wide variety of full range and general purposes E-Rated fuses from 2.4kV up to 38Kv.

R-Rated fuses are back-up fuses that provide short-circuit protection for motor circuits. They are applied with MV Motor starters which provide the overload protection for the circuit. R-Rated fuses also have defined current response times specified by ANSI C37.46. R-Rated fuses will melt in a range of 15-35sec at a current equal to 100 times the "R" rating. Bussmann offers 2.4kV, 5.08kV, 7.2kV and 8.3kV R-Rated fuses for motor circuit protection.
Boric Acid Fuses
Boric acid fuses are designed for power transformers, feeder circuits, distribution transformers, metal-enclosed and pad mounted switchgear.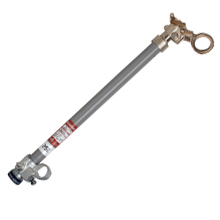 A glass epoxy tube encloses the assembly containing the silver fuse element, arching rod, boric acid cylinder and spring. Using a pure silver element and nichrome wire stain element makes the BBU less susceptible to failure caused by vibration, corona corrosion and fuse element aging. The components are housed in a fiberglass reinforced resin tube with plated copper contacts. BBU fuses can directly replace competitive equivalent units.
Bussmann's BBU fuses use boric acid to create the de-ionising action to interrupt the arc. At high temperatures, boric acid decomposes to produce a blast of water vapour and inert boric anhydride. Fault interruption is achieved by an arcing rod and a charged spring that elongates the arc through a boric acid chamber upon release by the fuse element to interrupt short circuits within one-half cycle and prevent the arc from re-striking after a current zero.
The BBU fuse is available in three constructions to meet specific melt curves for an application. The construction is designated in the catalogue number suffix as follows: E (standard), K (fast) and SE (slow). The curves for the SE construction are less inverse and allow for more of a time-delay at high currents.
Benefits of using Boric Acid Fuses include:
- Voltage ratings of up to 38Kv coupled with ratings to 200A provide a wide range of circuit protection
- Time-current characteristics allow for easier coordination with downstream devices
- Provides replacement of a variety of existing systems
Typical applications of Boric Acid fuses include: medium voltage feeder circuit protection, distribution transformers, medium voltage metal-enclosed switchgear and medium voltage pad-mounted switches.
Fast Acting Fuses
The physical size of Bussmann's fast acting medium voltage fuses varies with the electrical rating of fuses to prevent over-fusing.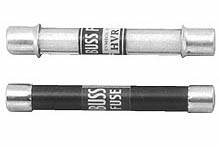 Bussmann's fast acting fuses offer space saving and is used in medium voltage instrument protection and circuit protection applications.
PT Fuses
Bussmann's potential transformer fuses range offer low current ratings for use in voltage transformers or operating transformers to provide isolation of the associated system in the event of faults in the transformer circuit.
Bussmann's potential transformer fuses range from 3.6kv – 38kv, there are physically dimensioned for retrofitting in existing hardware and are packaged in a space saving size. Bussmann's PT fuses are commonly used in medium voltage potential transformers and small medium voltage service transformers.
Read Bussmann's complete Medium Voltage Catalogue here.
GD Rectifiers has been an authorised distributor for Eaton's Bussmann series (and formerly Cooper Bussmann) for over twenty years. GD Rectifiers provides access to Bussmann's complete range of fuses including: High Speed Fuses, Medium Voltage Fuses, IEC & British Standard Fuses, Low Voltage Fuses and Industrial (Red Spot) Fuses.
View Bussmann's complete range of fuses here.
For further information on Bussmann's fuses or to enquiry about a specific part number, please call GD Rectifiers on: 01444 243 452 or email: .(JavaScript must be enabled to view this email address).