November 2019 - Compliance is key
Published on: 19/11/2019
Learn more about ISO 9001:2015 quality management systems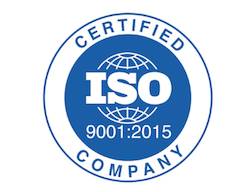 The ISO 9001 is defined as the international standard that specifies requirements for a quality management system (QMS). GD Rectifiers uses the standard to demonstrate their ability to consistently provide products and services that meet customer and regulatory requirements. It is the most popular standard in the ISO 9000 series and the only standard to which organisations can certify.
The ISO 9001 was first published in 1987 by the International Organisation for Standardisation (ISO), an international agency composed of the national standards bodies of more than 160 countries. The latest version of ISO 9001 was released in September 2015.
The ISO 9001 standard helps GD Rectifiers and other organisations to organise processes, improve the efficiency of processes and continuously improve business practices.
Alongside our ISO 9001 certification, GD Rectifiers is committed to ensuring the production and delivery of high quality products, we strive to provide our customers with products and services that exceed their expectations. We work with some of the world's leading manufacturers for worldwide coverage in the power electronics industry, guaranteeing the best quality at all times.
As a leading independent distributor of electronic components, we understand the importance of complying with UK and EU legislation recognised by the industry's governing bodies. Our quality procedures cover all aspects of the production and delivery stages we carry out ensuring customer satisfaction and enabling continuous improvement.
GD Rectifiers products comply with the EU directive on the Restriction of Hazardous Substances (RoHS) and we are dedicated to maintaining quality, environmental and health and safety compliance throughout our business.
The following systems and procedures are in place to support our ability to deliver unrivalled customer service and product quality:
- ISO 9001:2015 - the leading quality management standard for business-to-business companies
- BS EN 60947-4-3:2014 - compliance in low-voltage switchgear and control gear, contactors and motor starters, AC semiconductor controllers and contactors for non-motor loads
- BS EN 60146-1-1:2010 - compliance in semiconductor converters, general requirements and line commutated converters, specification of basic requirements
- RISQ - the UK's rail industry supplier qualification scheme, providing a qualification and audit process
GD Rectifiers is proud to be ISO 9001 certified company designing and developing bespoke power semiconductor assemblies to control voltage, current and frequency for international industrial markets.
For further information on GD Rectifiers' extensive product range click here or to speak to our sales team, please call: 01444 243 452 or email: .(JavaScript must be enabled to view this email address).