High Frequency Ignition Systems
Eichhoff Elektro offer a wide selection of High Frequency Ignition Systems, commonly used in gas and oil burners. These parts are predominantly used in gas heating and cooking for ignition and flame monitoring.
Supreme quality and reliability is guaranteed by process monitoring of individual production steps and computer aided final control. The Eichhoff systems comply with the national and international standards for gas fired devices.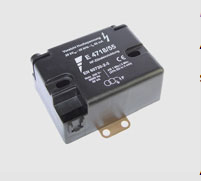 According to DIN 3446, DIN EN 60 335-1, special features include:
- High frequency ignition system
- Safe and stable ignition
- Quality is based on individual testing
Type
Supply Voltage
Output Voltage/Current
Number of Outputs
E 4718/25
230V
AC

≥ 20kV / 40mA

1
E 4718/30
120V
AC

≥ 20kV / 40mA

1
E 4718/55
230V
AC

≥ 20kV / 40mA

1
View Eichhoff Elektro's complete product range here.
For further information on Eichhoff Elektro's High Frequency Ignition Systems, please call: 01444 243 452 or email: .(JavaScript must be enabled to view this email address)
Eichhoff Elektro
Eichhoff Elektro manufactures safety transformers and electronic ignition systems for gas.
Eichhoff Elektro joined the Enerdoor Group in 2011 which consists of Enerdoor in North America and Europe, Finmotor and Finlab in Italy and Eichhoff Elektro in Hungary.
Further information:
You can find further information on Eichhoff Elektro using the following links:
Tel: 01444 243 452
Fax: 01444 870 722
Email: enquiries@gdrectifiers.co.uk