Flat Transformers
Eichhoff Elektro manufacture Flat Transformers in UI 30 - UI 39.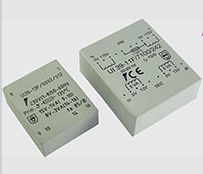 - Primary voltage 115-250Vac
- Secondary voltage from 3-24V
- Output power up to 10VA
- Further versions, primary and secondary voltages and pin configurations on request
- Two chamber bobbin
- Safety class II
- Protective system IP00
- Approved to EN 61558
- Permanent corrosion protection, high insulation value and maximum electrical reliability thanks to vacuum potting
- Double input voltage for series or parallel connection
- Also with double output voltage for series or parallel connection
View Eichoff Elektro's complete product range here.
For further on Eichoff Elektro's Flat Transformers, please call: 01444 243 452 or email: .(JavaScript must be enabled to view this email address).
Eichhoff Elektro
Eichhoff Elektro manufactures safety transformers and electronic ignition systems for gas.
Eichhoff Elektro joined the Enerdoor Group in 2011 which consists of Enerdoor in North America and Europe, Finmotor and Finlab in Italy and Eichhoff Elektro in Hungary.
Further information:
You can find further information on Eichhoff Elektro using the following links:
Tel: 01444 243 452
Fax: 01444 870 722
Email: enquiries@gdrectifiers.co.uk