October 2017 - Mersen's new groundbreaking DC overcurrent protection solutions for electric vehicles
Published on: 12/10/2017
Mersen launches groundbreaking DC overcurrent protection solutions for electric vehicles and battery-related applications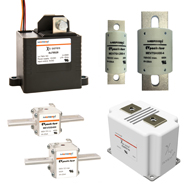 Mersen has announced the expansion of its portfolio of electrical protection components with the availability of a groundbreaking series of DC Overcurrent Protection Solutions for electric vehicles and battery-related applications. Mersen's new Xp and Xs Series hybrid devices and their expanded line of DC fuses provide complete coverage of the entire DC protection spectrum from low to high fault currents, resettable or nor, low to virtually no power loss and high duty-cycle complaint over the entire voltage and current DC range.
Mersen's Xp Series is composed of an ultra-fast-acting pyro-element with self-triggered and/or external ignition capacity. This protection meets custom design requirements of very fast operating time, extremely low watt losses and high cycling performances up to 1,000 VDC.
The Xs Series is a resettable 750 VDC arc-less hybrid power relay with the capability of switching both high voltage and high current. Both systems provide maximum flexibility in equipment design and the ultimate in protection. They have been engineered to provide protection for DC applications: e-mobility, electrical energy storage, EV/HEV, SmartGrid and PV installations.
Mersen's EV pack-fuse (battery pack fuse) and M-fuse (battery module fuse) are ultra-fast-acting DC fuses designed to address specific needs in EV/HEV and battery storage systems. With complete protection from 100 up to 1,000 VDC and up to 600A with minimum breaking capacity (MBC) <3kA for a perfect matching with DC contractors, these fuse families have been fully tested in DC conditions to guarantee fast and reliable protection for large fault currents.
According to Philippe Roussel, VP Global Strategic Marketing, SPM,
"Mersen has transformed our product offering to keep pace with the technological advancements and demands of the Electric Vehicle (EV/HEV) and Electrical Energy Storage (EES) markets. We are committed to pushing boundaries and introduce game-changing disruptive technologies to make EV/HEV and EES applications safer and more reliable."
GD Rectifiers are an authorised distributor for Mersen's Surge Arrestors, Fuses, Fuse Mountings and Microswitches. Shop the complete Mersen product range here.
For further information on Mersen's new range please contact GD Rectifiers on: 01444 243 452 or email: .(JavaScript must be enabled to view this email address).