October 2017 - GD Rectifiers: The Heatsink Experts
Published on: 31/10/2017
From air cooled to water-cooled heatsinks, GD Rectifiers have the heatsink for all applications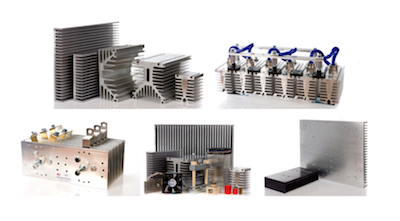 High efficiency heatsinks are an essential component of any power semiconductor system. GD Rectifiers offers a wide range of extruded aluminium heatsinks available from stock or made to order. GD Rectifiers has access to the world's leading heatsinks, from IXYS UK Westcode, SEMIKRON and GD Rectifier's own range of pioneering heatsinks.
GD Rectifiers works closely with customers to design and manufacture heatsinks to customised specifications. All extrusions can be supplied as cut lengths or drilled and machined to bespoke specifications. GD Rectifiers operate the latest CNC drilling and machining centres which provide accurately machined, cost-efficient parts on short lead-times. GD Rectifiers heatsinks can be supplied in natural or black-anodised finishes.
Forced-Air Cooled Heatsinks
GD Rectifiers are the UK's leading manufacturer of forced-air cooled heatsinks. A forced-air cooled heatsink is used in conjunction with a fan to increase the rate of airflow over the heatsink which maintains a larger temperature gradient by replacing warmed air faster than convection would.
View the Forced-Air Cooled Heatsink Range
Aluminium Heatsinks
GD Rectifiers are specialists in standard and custom made heatsinks, heatsink accessories and heatsink assemblies. They stock and machine the largest range of heatsinks suitable for stud, modules and capsule semiconductors.
View the Aluminium Heatsink Range
Hollow Fin Heatsinks
GD Rectifiers manufacture a wide range of Hollow Heatsinks used in a large range of applications including: communications, industrial controls, medical, military, motor drives, power controls, transportation, solar energy and wind energy. Characterised by its shape, GD Rectifiers' hollow fin heatsinks are manufactured with maximum thermal efficiency in mind.
View the Hollow Fin Heatsink Range
IXYS UK Heatsinks
IXYS UK stock a small range of high efficiency heatsinks, they specialise in Air-cooled and Solid Fin Heatsinks.
View the IXYS UK Heatsink Range
LED Heatsinks
GD Rectifiers offer a wide range of LED heatsinks designed to cool LED lighting devices by absorbing and dispersing excess heat away from LED diodes, into the heatsink.
SEMIKRON Heatsinks
SEMIKRON offers a wide range of Heatsinks - forced and natural air-cooling coolers, available for capsules, insulated base modules and IPMs.
View the SEMIKRON Heatsink Range
Solid Fin Heatsinks
GD Rectifiers design and manufacture a wide range of Solid Fin Heatsinks typically used in devices across: industrial, medical, military and transportation industries. Solid Fin Heatsinks are designed for free convection but can also be used for forced-air cooled systems as well.
View the Solid Fin Heatsink Range
Water & Oil Cooled Heatsinks
GD Rectifiers manufactures a large range of high quality and cost effective water coolers for isolated based thyristor, diode and IGBT modules. They are easily mounted and are available with or without water connectors and high quality tubing.
View the Water and Oil Cooled Heatsinks
GD Rectifiers offers a full service from design to production, technical support and fast delivery, GD Rectifiers are the UK's No.1 heatsink provider in the UK.
For further information on all of our standard heatsinks or to discuss your requirements for custom designed heatsinks, please call: 01444 243 452 or email: .(JavaScript must be enabled to view this email address).