October 2017 - GD Rectifiers Announces Distribution Agreement with KONČAR
Published on: 10/10/2017
GD Rectifiers are proud to announce their collaboration with KONČAR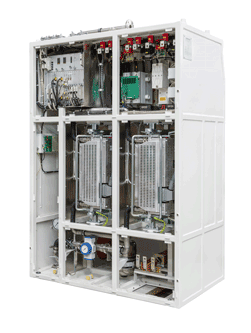 GD Rectifiers, one of the UK's leading power electronic component distributors and manufacturers of heatsinks, power assemblies and selenium rectifiers, have today announced their collaboration with KONČAR. The company is a leading manufacturer of electric equipment, specialising in the production, testing and maintenance of industrial electronic devices and systems.
Launching this month, GD Rectifiers will distribute KONČAR's wide range of traction converters for electric and diesel-electric multiple units, electric and diesel-electric locomotives, trams, passenger coaches and substations. They also offer a large range of liquid cooling systems suitable for standalone installation or on the roofs of vehicles.
The launch comes as GD Rectifiers look to compliment their existing product offering within the rail industry. They will now distribute KONČAR's world-leading converters and control systems for railway vehicles, DC and AC Ups, static excitation systems for synchronous machines, ripple control systems, protection relays, electric measurements devices and systems, process informatics, devices and systems.
View the complete KONČAR product range here.
For further information on KONČAR products, please call our sales team on: 01444 243 452 or email: .(JavaScript must be enabled to view this email address).