May 2018 - Benefits of using GD Rectifiers
Published on: 02/05/2018
GD Rectifiers offer exceptional technical support on their entire range of electronic components and devices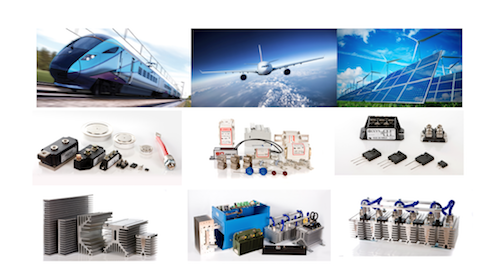 GD Rectifiers is one of the UK's preferred distributors of power electronic components, they work with businesses to design, build and test their products.
Today more and more OEMs with global aspirations are looking to work with UK partners to assist them with designing, building and testing their products. In today's market, OEMs are looking to build relationships with UK manufacturers to increase their product offering and geographic reach providing more added value.
Adding Value
UK Distributors often provide value-added services. At GD Rectifiers, we offer a completely tailored approach to the production process. With over 50 years' experience in the power electronics industry, we manufacture a wide range of Power Assemblies, Heatsinks, Capacitors, High Voltage Diodes and Selenium Rectifiers. We also distribute a wide range of Semiconductor Components from some of the world's leading manufacturers, including: IXYS, Westcode, SEMIKRON, Mersen, Eaton Bussmann, EDI, API Capacitors, Enerdoor and Telcon.
Huge Savings
As an Authorised Distributor for a large range of manufacturers, we offer competitive pricing on our core product portfolio, enabling us to pass on cost savings to our customers, offering exceptional value. We work closely with our customers to offer bespoke solutions, design consultations and technical support on all of our products.
Expertise
Established in 1964, we have extensive experience across a large range of markets, specialising in new and current technologies for industrial power control applications. An extensive product offering has built our exceptional reputation as the go-to power specialist with innovative experience across: Aviation, Automotive, Rail, Medical, Industrial and Electronics markets.
Convenient Shopping
We also facilitate individual call-off orders for a number of customers, we hold stock in our warehouse making it easier for them to pull the products they need in quickly, allowing them to pay for the call-off orders as and when they require them as apposed to a large upfront cost which also helps free up space on their premises.
Technical Support
We offer technical support 24/7 to ensure the designing and manufacturing processes runs as smooth as possible. We are proud of our friendly technical team which help customers through the design and component specification phase, helping them source the right solution for them. Our team are experienced in sourcing the right technology, at the right price, at the right time. They specialise in sourcing modern day and obsolete components, supplying and often designing new power devices for the latest product launches and industry developments.
Account Management
Our sales team and engineers work directly with our customers on product capabilities, supply chain management, budgets and mass production roll outs. Our sales team are hands-on with customer accounts, ensuring you get prompted to order the products you need at the right time to speed up delivery. They work closely with the factories to ensure we provide the best possible prices on the components you need.
For further information on our complete product range click here.
You can also view our extensive linecard here.
Find out how we could save you money sourcing semiconductor components today, call us on: 01444 243 452 or email: .(JavaScript must be enabled to view this email address)