June 2018 - Custom Power Assemblies by GD Rectifiers
Published on: 14/06/2018
Introducing GD Rectifiers' wide range of custom power assemblies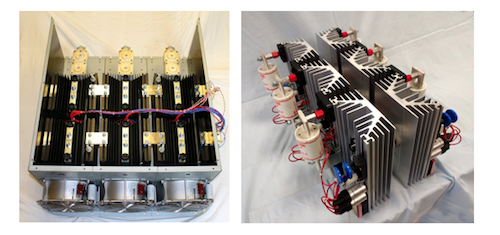 GD Rectifiers have been manufacturing standard and custom designed power assemblies for over 50 years. They work closely with customers to offer high performance, cost effective assembly solutions with short lead times. They provide an all-encompassing range of single phase assemblies, three phase assemblies and hexaphase assemblies.
GD Rectifiers' extensive range of power assemblies and controllers include: rectifiers, regulators, firing circuits/trigger modules, inverters, selenium suppressors, rotating diode assemblies, photovoltaic triple diode assemblies, blocking and voltage diodes, selenium rectifiers, single phase assemblies, three phase assemblies and hexaphase assemblies.
GD Rectifiers' power assemblies are used across a wide range of applications, including: AC drives, DC drives, bridges, regulators, soft start, energy optimisers, telecommunications, UPS and SMPS.
Reasons to use GD Rectifiers as your power assembly manufacturer
1. GD Rectifiers design and manufacture customised power assemblies from initial concept to commissioning.
2. GD Rectifiers has the unique products and skill set for specialised applications, with over 50 years of experience in the industry they work closely with customers to ensure they produce products that best fit the customers' specification.
3. They can cater to standalone systems, sub components and standard power assemblies.
4. GD Rectifiers have vast experience with designing and manufacturing various assemblies using SCR thyristors GTO thyristors and IGBT modules or diode modules
5. They provide a large range of designs with different cooling techniques in their heatsink assemblies: forced-air cooled, water cooled and oil cooled
6. GD Rectifiers assist customers at all stages in the design process, or simply provide technical expertise at the quote/delivery stages
Explore the complete power assemblies and controllers range online today here.
For further information on GD Rectifiers' power assembly capabilities and expertise, please call: 01444 243 452 or email: .(JavaScript must be enabled to view this email address).