June 2018 - Bussmann's New Fuse Holder Enhances Safety in High-Voltage Solar Installations
Published on: 07/06/2018
Learn more about Eaton Bussmann's latest range of fuses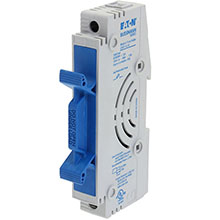 Eaton's Bussmann Series has recently introduced a new Bussmann series DIN-Rail fuse holder specifically designed for 1500-volt (v) photovoltaic (PV) systems. The unique design of the CHPV15L85 fuse holder covers live parts when in the extracted position, offering a high degree of worker safety by preventing accidental contact during fuse replacement.
Eaton develops and manufactures Bussmann series critical circuit protection, power management and electrical safety products designed to provide innovative circuit protection solutions. These products serve customers in the industrial, commercial, alternative energy, high reliability and other markets.
"Eaton delivers a wide range of overcurrent protective devices for solar applications that protect the valuable balance of system equipment, support uptime and keep personnel safe," said Kristine Stoll, product line manager at Eaton.
"Our latest fuse holder addition strengthens this portfolio by helping to prevent accidental contact with live components in high-voltage solar environments."
Eaton's IP20 finger-safe CHPV15L85 fuse holders meet global agency standards to simplify designs for worldwide markets, and are engineered for use with 10x85 and 14x85 millimeter cylindrical gPV fuses. The fuse holder is UL® and International Electrotechnical Commission (IEC) rated up to 32 amps.
GD Rectifiers is the official UK distributor for Eaton's Bussmann range of fuses, they have stocked Bussmann's complete range of fuses for over 10 years.
To learn more about Eaton's Bussmann series CHPV15L85 fuse holders, please call GD Rectifiers on: 01444 243 452 or email: .(JavaScript must be enabled to view this email address).