January 2018 - Littelfuse's Acquisition of IXYS - The Benefits
Published on: 24/01/2018
Discover the benefits ahead in the semiconductor industry

Littelfuse's recent acquisition of IXYS Corporation will combine a strong culture of customer service and a collective commitment to the future of the power semiconductor industry.
The acquisition of IXYS provides three strong benefits: offering a full range of power needs, building rich technology heritage and providing innovation.
Full range of power needs
Littelfuse has significantly expanded the breadth of its product offering of power semiconductors, with solutions spanning across a full range of technologies. This diverse portfolio will provide customers with the best technology and enhanced, differentiated capabilities in target markets as well as deliver greater industry access and increased growth opportunities.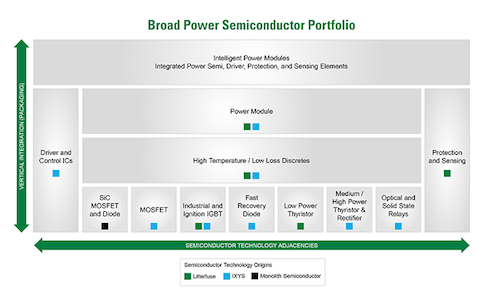 Building on rich technology heritage
Experience: 89 years of combined semiconductor industry experience.
Focus: pioneers in thyristors, rectifiers, power MOSFETs and IGBTs, including differentiated packaging and recognised leaders in circuit protection and semiconductor circuit protection.
Reach: Serving more than 13,500 customers in key markets spanning industrial, automotive, consumer, communications, traction, medical, aerospace and military markets.
Innovation: advancing the power semiconductor industry through silicon and SiC solutions in discrete, multi-chip modules and IC forms. Providing a market leading range of bipolar and MOS product lines, which include power MOSFETs, IGBTs, thyristors, rectifiers and complementary ICs.
Support: Meeting customer needs around the world with more than 11,000 employees working in over 50 locations.
Providing innovation


GD Rectifiers are an authorised distributor of the entire IXYS Corporation portfolio.
For further information on IXYS products and to learn how we could help save you money on your next project, please call our sales team today on: 01444 243 452 or email: .(JavaScript must be enabled to view this email address).