January 2018 - Benefits of EMI Filters
Published on: 03/01/2018
Discover the benefits of using EMI Filters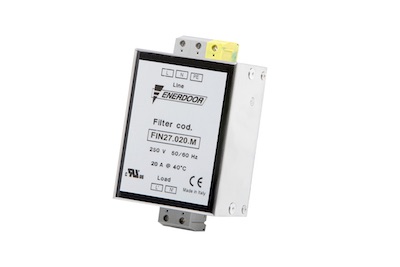 What is Electromagnetic Interference?
Electromagnetic interference is described as conducted, radiated or magnetically induced voltage which degrades, obstructs or repeatedly interrupts the desired performance of electronic equipment. There are four fundamental interference sources:
- Man made noise
- Electromagnetic pulses through nuclear reactions
- Electrostatic discharge
- Cosmic noise
What is an EMI filter?
An electromagnetic interference filter is an electronic passive device used to suppress conducted interference present on a signal or power line. EMI filters are used to suppress interference generated by the device or other equipment to protect a device from EMI signals present in the environment.
Benefits
Enerdoor's EMI filters support long term cost savings, increase systems reliability and uptime to help meet international compliance requirements.
When electrical circuits increase in complexity, the possibility of disturbances grow larger and the likelihood of mistakes with serious consequences heighten.
GD Rectifiers works with the Enerdoor Group to offer its customers a wide range of EMI filters, also known as EMC and RFI Filters. They guarantee unbeatable prices and fast delivery on EMI filters. Their engineers are here to help solve your individual electromagnetic compatibility issues and point you in the right direction of the products you need.
Enerdoor has been designing custom EMI filters and various other products to meet specific requirements for 26 years. They provide industry leading EMI filters for the medical, industrial, aerospace, telecommunications and consumer goods applications. With extensive engineering capabilities, GD Rectifiers is in the unique position to provide products for all your EMI requirements.
For further information on EMI filters please click here, or call: 01444 243 452 or email: .(JavaScript must be enabled to view this email address).