April 2018 - IXYS Phase-Leg Modules with Voltage Rating of 2200V in TO-240 Package
Published on: 05/04/2018
IXYS announces the expansion of it's phase leg modules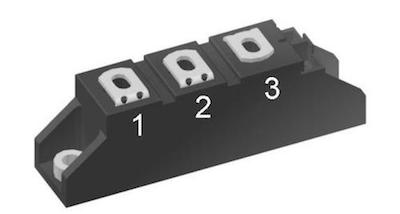 IXYS' latest addition of 2200 volt products to the TO-240 portfolio is now offering a wide current range from 24 to 140 amps at a case temperature of 100°C with lowest forward voltage drop and high performance in the reverse blocking direction.
This will allow designers the freedom to build applications with the highest power densities while maintaining IXYS' well known quality performance.
IXYS' offering for the corresponding thyristor module outline a maximum junction temperature of 140°C and 150°C for diode modules.
The isolation voltage of 4800 volts meets industry requirements and underlines the outstanding capabilities and the high reliability of IXYS' TO-240 product line.
The IXYS module range contains diode phase-legs as well as thyristor and thyristor/diode phase-legs:
GD Rectifiers has been an authorised distributor for the IXYS Corporation for over 24 years, alongside IXYS, they distribute for IXYS RF, IXYS Integrated Circuits Division and IXYS UK Westcode.
For further product information please call GD Rectifiers on: 01444 243 452 or email: .(JavaScript must be enabled to view this email address).