April 2018 - Enerdoor's motor protection series could help save you money
Published on: 25/04/2018
Discover the benefits of Enerdoor's motor protection and power quality solutions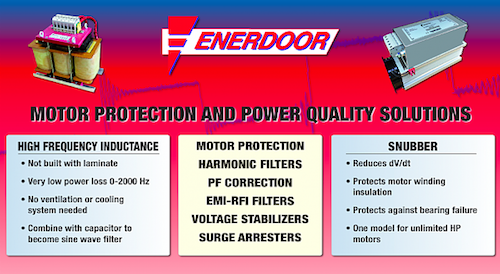 Enerdoor's motor protection series protects motors from harmful overvoltage and dv/dt spikes generated on the output which is used in applications with variable frequency drives and servo-motors.
Enerdoor's series includes common mode and differential mode inductances, sine wave filters and snubbers designed to work with various frequency switches, output frequencies and applications.
The pulse wave modulation (PWM) effect is reduced by the sine wave filter series and converts the PVM to a sine wave, reducing it's dv/dt. Enerdoor's FIN915SFH model is used with fundamental frequencies up to 2 kHz. The high frequency inductance FIN960FH is a unique solution used for synchronous spindle motor applications.
GD Rectifiers is an official distributor for Enerdoor Group and stocks their complete range of: motor protection devices, harmonic filters, power factor correction, surge arresters and voltage stabilisers.
View the Enerdoor Catalogue.
For further information on Enerdoor products please call: 01444 243 452 or email: .(JavaScript must be enabled to view this email address).