Voltage Stabilizers
Enerdoor's Three-phase Stabilizers are available in two versions: FINSTT and FINSTC.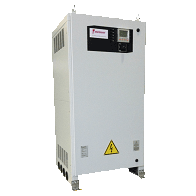 They both perform voltage regulation by an average of three phases and are suitable for lines with balanced voltage and for an unbalance between phases up to 50%. These models are equipped with one stabilizing circuit to ensure a common regulation of the three-phase and may be connected to input mains without neutral.
View Enerdoor's complete product range here.
For further information on Voltage Stabilizers, please call: 01444 243 452 or email: .(JavaScript must be enabled to view this email address).
Enerdoor
Enerdoor is part of The Enerdoor Group which consists of Enerdoor in North America and Europe; Finmotor and Finlab in Italy; and Eichhoff Elektro in Hungary.
The group is an international leader in the development and production of electromagnetic solutions for automated and industrial machinery.
The broad range of products include: EMI/RFI Filters, Motor Protection, Harmonic Filters, Line Reactors, Surge Arresters, Voltage Stabilizers and Customised Solutions.
Further information:
You can find further information on Enerdoor using the following links:
Tel: 01444 243 452
Fax: 01444 870 722
Email: enquiries@gdrectifiers.co.uk