June 2017 - IXYS Colorado Announces Launch of New Pulsed Laser Diode Driver Module
Published on: 08/06/2017
IXYS Colorado releases new improved version of PCO-7110-40-4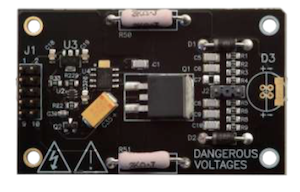 GD Rectifiers are excited to announce that today IXYS Colorado have released their latest product, the PCO-7114-50-4 Pulsed Laser Diode Driver Module.
IXYS Colorado's PCO-7114-50-4 is a substantially improved version of their PCO-7110-40-4 design. Some of the improvements include:
- Thicker, more robust printed circuit board
- Board layout optimised for reliability and improved performance
- 20% higher pulse current of 50A (vs. 40 A for the PCO-7110-40-4)
- RoHS Compliant
Specifically designed for the range finding and LIDAR markets the PCO-7114-50-4 is a great choice for designers who specialise in optics and laser technology and need a pulsed driver capable of providing the high current, short pulse widths that they require.
Each LIDAR application (or laser application in general) has its own unique requirements and this is especially true for the OEM (design in) market that we target with our module products. In September of 2017, IXYS Colorado will be introducing the PCO-7114 Series which will build on the PCO-7114-50-4 with other modules using the same technology and PCB as a platform for a variety of 'off the shelf' options for customers to try. However, IXYS Colorado have the capability to work with each customer to modify the PCO-7114 to meet their needs or provide a new design that meets the specific needs of their laser diode driver application through their Lab to Launch program.
GD Rectifiers are an official distributor of the IXYS Colorado division. Founded in 1987, IXYS Colorado is a subsidiary of IXYS Corporation and continually delivers art-of-the-art pulsed-power components and instrumentation.
For more information on the PCO-7114-50-4 Pulsed Laser Diode Driver Module please call: 01444 243 452 or email: .(JavaScript must be enabled to view this email address)